NEW RELEASE...
Welcome to the fray, C.Thomas Grey!
Some of you would know our author with the silver tongue and flair for taboo erotica. He made his debut on
Lush Stories
in 2012 with a short erotic romp called Hump Day. He soon followed that hot and heavy piece with a highly taboo, Daddy/Daughter tale that set a few records for us here.
Our Facebook page
had the most hits ever with his debut story, and this guy is set to soar.
C. Thomas Grey
is one of two pseudonyms our mystery man writes under.
Arthur Murray
being the second. We can expect to see a Paranormal Romance from him sometime this year, providing his fans continue to back and egg him on for more.
"Christian," as he likes to be called, is a fairly busy but private man. His identity, as a high rolling professional and serious business man, needs to be kept as far away from his fantasy life as an author. "Christian" maintains a modest home in Sydney's Western Suburb of Parramatta. He is a huge fan of photographer, Yuri Arcurs.
To celebrate his new release, we're giving you a sample of "Christian's" talent as an author. Come be seduced by his style and drawn into the taboo world of
"Who's Your Daddy."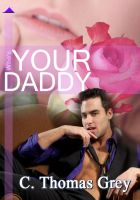 Who's Your Daddy – C. Thomas Grey ©2012
Published by Twilight Fantasies & CGB Press at Smashwords
Characters are fictional and are eighteen or over.
An hour earlier, Jasper was busy robbing the local 7 eleven. He since snuck into the lavish home of an old college buddy to hide out until the fuss blew over. It was a really stupid thing to do – rob a convenience store, but Jasper's curiosity got the better of him.
Having been a college jock and star Quarter Back, Jasper was blessed with rugged good looks, blonde wavy hair and teal blue eyes that almost looked like a couple of mesmerizing jewels when compared to this tanned complexion. His bulky mass served him well as a fireman even if his towering height had him at a disadvantage when trying to keep a low profile.
He had worked hard to become a fire fighter, but when budget cutbacks were to blame for the loss of half his crew in a warehouse fire on the corner of 47th and Main, it was the final straw for him and he lashed out at his boss. Jasper's loss of restraint cost him his job. At thirty-eight, Jasper never really grew up. He held onto the prankster within that had carried him through college. Now that prankster was the reason he ended up fired from the job he loved and made him an outlaw.
David was a good buddy. His wealth came from shares his uncle bought him in a little company that went global, now known as Yahoo. The massive four car garage that Jasper sought refuge in only had two cars in it. There was one empty car space between the Jaguar and Porsche. The smell of the garage was a mixture of concrete, tyre rubber and motor oil – a manly garage smell. It reminded Jasper of the fire house.
The fourth car space had been converted into what looked like an empty office. There was a desk with nothing on it near a stack of tyres that he used as cover to hide behind, and there was a high leather backed chair snuggly tucked up close to the desk. Behind the desk there was an old couch. Above it hung a painting of the ocean with a lonely lighthouse shining its light out across the water. Jasper liked that painting the moment he laid eyes on it. There was something relaxing about it. The door in the corner of the room opened and Jasper ducked down as best he could to stay out of sight.
Rosie couldn't stand it when her mother kept nagging her to keep the kitchen clean. She retreated to the garage with her laptop, locking the door behind her. Horny and in need of a little release, Rosie placed her laptop down on the desk, pulled out the high backed leather chair then sank down into the comfortable object. She loved the smell of leather – that was why her black leather jacket was her favourite piece of clothing. Rosie never came into the cold garage without it.
The paining on the wall reminded her of her first major art assignment. As an art student, Rosie was passionate about paining – passionate about life, passionate about the colour black and her leather jacket. The obsession with black clothing annoyed her mother. Rosie's mother was the bane of her daughter's existence, but Rosie had plans for a life of her own and refused to be squashed into her mother's mold.
Firing up her laptop, Rosie logged onto her favourite sex story site, Lush Stories. She got up to turn out the lights in the garage and let the soft glow of her computer screen illuminate the way back to her comfy chair. Relief was on its way as she scrolled down the home page looking for an interesting story to pull her out of real life drama with the family, and into a debauched world where sexual fantasies came to life.
Rosie scrolled through the titles of the stories until something grabbed her attention. 'There's one that speaks to me – Hump Day. I could use a little of that', she thought as she clicked the story and began to read. After reading the story, Rosie was a little relieved, but she craved more. She checked out the author's profile, and he was hot! Something about C. Thomas Grey's eyes and rugged good looks captured her attention. She had his profile open and was scrolling through. Her hands gravitated to the crutch of her pants when something stirred behind her.
Ignoring the noise at first, Rosie believed it to be another shift in the building foundation, another squeak, crack and snapping sound that had plagued the house from the moment the family moved in. She wasn't frightened and wouldn't let the sound put her off fantasising over this hot author. Rosie unbuttoned her black jeans and her hand soon found its way down her panties. Stroking at her clitoris, Rosie began searching all she could about the author. Her imagination got the better of her and she left his profile open on her desk while she sat back in her chair, closed her eyes, and imagined his skilled fingertips or tongue were having their way with her throbbing pussy.
This time something fell down behind her and she jumped out of her euphoric haze. The noise wasn't due to a shifting foundation. She pushed back, leaping out of her chair to zip up her jeans then turned on the lights.
When Rosie turned around to face her desk, she saw nothing unusual. Her heart beat rapidly inside her chest as she flicked off the light and approached her desk. She sat back down and was startled by a male voice in the shadows behind her.
Rosie almost jumped out of her skin and quickly got to her feet. She scrambled around her desk to turn on the lights. When she turned around this time, a handsome fireman was sprawled out alongside her laptop. His broad smile and teal-blue coloured eyes commanded her attention.
'Who are you?' she breathed.
He glanced at her computer screen. 'Interesting read? I wonder, does your father know what you're doing?'
Rosie crossed to her desk and quickly slapped her laptop shut.
'You know my father?' Rosie asked. She was confused by the man lying across her desk. His uniform gave her a false sense of security while something in his voice told her to keep her guard up.
He smirked. 'We went to college together. Hope you don't mind me crashing here for a few days.'
'Does my dad know you're sneaking around in our garage?' Rosie noticed a strange bulge beneath his coat. His black coat with yellow trim looked a little singed and smudged with ash. He really could be a fireman, although the more she stared into his teal blue eyes, his rugged boyish good looks reminded her of an old school photo her father kept in the den, along with his trophy collection and other sports memorabilia. This fireman looked strangely familiar.
The man pursed his lips together, causing a distinct dimple to crease his cheek before he drew in a deep breath.
'Not exactly, I'm hiding out. Hope you won't give me up.'
Rosie stood up to gain a little distance from him and ran her hands through her dirty blonde hair. His smile was very charming and her pussy ached – unsatisfied.
'Why would I give up a mate of my dad's for hiding in our garage? I bet he'd be thrilled to catch up with you.'
The man rolled his eyes at her.
'I'm not so sure he would if he knew why I was hiding,' he tapped the bulge in his jacket.
Rosie swallowed hard. Dear God, please don't have a gun, she silently prayed. The man laughed when her eyes stayed fixed to the bulge in his jacket. She summoned her courage to ask.
'What are you hiding?' Rosie's lips went dry and she had to lick them. Her heart thumped like a drum that kept creeping up to her throat, threatening to cut off her words.
He appeared to be completely relaxed around her. At any moment she could scream and someone in the house might come to her defence, but she wasn't sure she could count on her other siblings or her mother's help after the argument they just had. No – she was truly on her own.
'Can you keep a secret?' he whispered.
Rosie frowned. She couldn't explain the mixed feelings stirring inside her – curiosity, lust, fear. Curiosity won out and she gave him a slow nod.
'I just knocked off a 7 eleven for kicks,' he calmly said and reached inside his coat, 'with this.' He pulled out a cordless drill from his coat and pressed the trigger. The whizzing sound of the empty chuck made her laugh out loud.
'You robbed a convenience store with a drill? How on earth did you get away with it?'
He set the drill down on the table, sat up then shrugged off his bulky coat.
'Guess it had something to do with the uniform,' he grinned.
Rosie couldn't help but notice how fit he was. The flex of his biceps and tight fitting black t-shirt only served to stir the lust brewing inside her bosom, causing it to spill over and pool deep within her groin. She suspected the uniform had everything to do with his success.
'Please,' he motioned to the closed laptop. 'Don't let me stop you from what you were doing.'
Rosie blushed, wondering if he watched her earlier.
'I…I wasn't doing much,' she stuttered. 'I was just reading a few stories online.' Her palms were sweating as she stepped behind the desk and sank into her favourite chair while he sat on the edge of the desk. The close smell of his smoked clothing caught her breath and she couldn't help but cough and turn away from him.
From the corner of her eye, she noticed him lean down to sniff his shirt as she opened her laptop and logged on. The sound of two heavy boots hitting the concrete floor followed. She sensed him looking at her intently as she continued browsing, Lush Stories.
'What was that story you were reading before?' he asked as he slid off the desk then removed his overalls. When the bulky clothing dropped to the floor in a heap, he then stepped out of them, wearing long navy-blue cotton pants.
'Um…I…I don't remember,' she lied. The heat from his body leaning over her chair made her a little nervous. What was he doing?
'Look, I don't want to alarm you, but there's a pretty big spider crawling onto your shoulder…'
Rosie thrust back her chair into him then leapt out of her seat, brushing her shoulders then tussling up her hair. Muttering obscenities, she slipped the jacket from her shoulders in one swift, fluid motion and swished it down along the ground as though she were a matador –waving a red flag in front of a bull. Rosie heard him chuckling as she stomped on her jacket lying on the floor. Carefully peeling the corner of her favourite garment off the floor, Rosie was ready to stomp on the spider if it wasn't already dead.
When there appeared to be no spider present on her trampled jacked, Rosie clenched the item in her hand and thrust it under his nose. She was close to murdering him for scaring her. If there was one thing she hated in life, apart from creepy crawlies, it was practical jokers.
'You're a bastard,' she hissed at the handsome stranger as she returned to her chair. His grin was infuriatingly infectious, causing Rosie's frown to morph into a giggle.
'I couldn't think of any other way to get you to remove your jacket, so that I could see how big your tits are.'
Rosie gasped at his frank remark. 'Are you this rude with everyone you meet?'
His grin slowly disappeared and he suddenly looked very serious. Large, gentle hands swept her messed up, shoulder length hair out of the way as his lips made contact with her earlobe. Hot breath blew softly in her ear as he whispered.
'Only when I want to fuck them.'
Rosie's hands dropped from the keyboard, and she swallowed hard. Had he read my mind?
'You want to fuck me here, in the garage?' Rosie turned her head to face him and met his mesmerizing teal-blue eyes.
Taking her hand in his, he raised her fingers to his nose a deeply inhaled the scent of her skin before kissing her delicate fingertips. Rosie's pulse raced as his tongue licked between each finger.
'I think you want me to fuck you here, in the garage…' he whispered. 'Mmm, you taste so sweet.'
Trembling with desire, Rosie gave a shy nod. She had never been seduced by an older man before, but fantasised over it many times.
'How old are you - seventeen, eighteen?' he cooed as he ran his fingers through her hair.
'Eighteen,' Rosie breathlessly replied.
'Then you must be Dave's firstborn, Rosie.'
'Yes,' she blushed as her eyes flickered between his eyes and lips.
'I'm Jasper Dean, your father's college roommate and oldest friend,' whispered Jasper as the distance between the two of them grew smaller.
'Hi, Jasper,' Rosie whispered as he moved in slowly, bent his head then kissed her.
Leaning heavily on her chair, he explored her mouth with his tongue before pausing to bite her lower lip.
'Do you have a boyfriend?' he growled between kisses.
'Not anymore,' she replied, taking his head in her hands to revel in his kisses.
'What happened – your father didn't like the guy?' Jasper smirked.
Rosie pulled away from him to stare into his gorgeous teal blue eyes. She didn't have much experience with the opposite sex, but her youthful hormones ruled her actions.
'Yeah, how did you know?'
'If you were my daughter, I wouldn't let some teenage bag of hormones anywhere near you.'
Rosie couldn't believe her ears. Here was a man, who was sexy as hell, old enough to be her father and every bit as protective, making a pass at her.
'My ex, Greg, was the only guy I have been with. I'm afraid I don't have much experience.' Rosie glanced down at the idle laptop screen that flickered into hibernation mode. Since reading the stories on Lush, Rosie became more and more aware that a whole new world was waiting for her to explore. Some of the stories aroused her curiosity, indulging her fantasies for older men – including her father.
'You're very attractive, Rosie.' Jasper cooed as he traced his finger down the side of her cheek. 'I'd love to help you explore your sexual boundaries. Be your teacher, show you how a man can please a woman…' his voice trailed off as he went in for another kiss.
Seducing one as young as Rosie would have been tricky, had she been a virgin, but since she wasn't so innocent anymore meant she might be persuaded and coaxed into an advanced education in the art of sex.
Jasper's desire grew as he watched her sit at the desk, frigging herself silly while reading sex stories, and knew she was ripe. An easy lay – a horny teenage girl with a high level of debauched curiosity. The best part was he had his buddy to thank for spawning such a healthy, beautiful young woman.
'You want to fuck my pussy, Jasper?' Rosie whispered in his ear as he kissed her neck.
Her words, her supple lips and eager hands began stirring his animalistic desires to life. He loved the way the words 'fuck' and 'pussy' rolled off her sweet youthful tongue.
'What if your father comes home and catches us?'
Rosie blushed. 'I don't care,' she shrugged as she reached for Jasper one more time and latched onto his mouth. 'It might inspire him to join us.'
Christ, she was forward
, he thought as they kissed. He pulled her out of the chair and stood there holding her in his strong arms. He and David used to joke when they were in college about threesomes, and then there was one memorable Halloween party when their filthy inhibitions were laid to rest as they crossed that line with Beth Sommers.
'You've fantasied about your father?'
Rosie panted heavily as she continued clinging to him.
'Only since I started reading stories on Lush. There have been some saucy daddy/daughter tales. Really hot ones. Why do you think I lock myself in here waiting for him to come home. I read and play, hoping he'll catch me, but he never has.'
'But, you want that to happen?'
Rosie glanced at him and her expression seemed much older.
Jasper grinned. He knew what that expression meant. She wanted it bad. He toyed with her, clicking his tongue........
For a limited time, you can grab your copy for only $0.99.